No knots, no loops, just like how natural hair is grown.

Introducing our new Topz no-knots hair!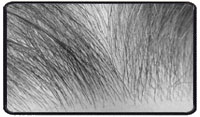 Other hair systems use split knots and v-knots, see and compare the improvement in the Topz no-knots hair!
The new breakthrough we made is in our new polymer material. This special polymer can hold the hair firmly in place. It is strong, soft and pliable. For the first time, individual hair can be implanted into a skin like polymer membrane. Each hair can be implanted at an angle just like nature has intended.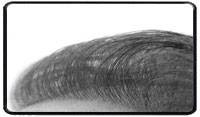 That is why it looks and feels like naturally growing hair. It also gives us better control on hair directions. We can plant hair from a 30 degree to 90 degree angle. We can create volume without adding thickness, and we can make the hair to lay flat so it blends better into your customers' temples, sides and back.

Today, your customers want up-to-date hairstyles, and natural looking hair. With our new Topz hair, there are no knots to show or to inhibit hair movements. You can cut it as short as you like, and there is no limit to any hair style you can create for your clients. Topz is now available as a custom order. Call us and let us tell you more about this exciting new product.