Mr. William Wong in his Tarzana, California office among Hollywood "Legends."

The William Wong Hair Factory is located in Tarzana, just off of the 101 freeway in California. The beaches are only fifteen to twenty minutes away, but it is all business at the WW Hair Factory. It is located in a small industrial park, surrounded by hi-tech start up companies fleeing from the high costs of Silicon Valley. It was not surprising therefore, to find that Mr. Wong had created his own production and order-management software program, or that he had installed an audio-visual studio where his designers produce everything from sales brochures and videotapes to their own, remarkably sophisticated website. Mr. Wong is clearly proud of the company that he has created and in which his daughter and two sons also work. In fact, he humorously tells the story of how he advised his daughter after graduation to find employment somewhere else if she wanted an easy job. The WW Hair Factory is a small to medium size company, and Mr. Wong wants to keep it that way. He takes special pleasure from the fact that many of his customers have been with him for over fifteen years and have become personal friends. "There is one principle that guides everything I do," he told The Journal. "Always treat other people as you would like them to treat you," adding, "This would not be possible if I grew too quickly or overstretched my staff." And these are not idle words. At the conclusion of our interview, Mr. Wong took your editor and creative director to one side and served a delightful tea with fresh fruit, pastries and a special Chinese tea made from premium leaves that had just been harvested and cured on the other side of the world.

NHJ: You did not begin your career in the hair business did you? How did hair come into your life?

WW: It all started around 1968 in Hong Kong. I was working for a lawyer, when a gentleman came in to see me who wanted me to incorporate a company for him. I was happy to do this and the company owner was very pleased with my work and asked me if I would like to become manager of the factory I had helped to create. It was a hair factory. This was quite an honor. Even though I was very young at that time, about 22 years old, and here I was being offered the position of factory manager!.

NHJ: Why would you consider leaving the legal profession to jump into the unknown world of hair?

WW: The main reason is very simple. I did not enjoy the legal work I was doing. I was handling a lot of criminal cases and this was very stressful. I had to go to detention centers to take statements from the people who had been arrested and I really did not enjoy that type of work. So, I took this unexpected opportunity to start over in a new business and went to work as the factory manager. At that time, it was a "seller's market" in Hong Kong, and people would buy whatever you could produce. We were not making hairpieces back then, we made ladies' wigs. At its peak, the factory had about 800 girls working for it. We were one of the biggest companies in Hong Kong. The company's name was Gilda Fashions and our customers were mostly from the United States and Europe.


NHJ Editor in Chief Chris Webb with Mr. William Wong.

NHJ: Over time, much of the hair business migrated from Hong Kong to Korea. How did this affect you?

WW: You are right; because labor costs in Hong Kong were getting higher and higher. Korea was trying to get a slice of the market. They were learning to make better products and their prices were often half of what we could produce in Hong Kong. In the end, these prices left most companies with no choice and they had to move their production to Korea. Eva Gabor was one of my clients at the time, and they made me a special offer. Since they liked the quality of our products, but had to move to Korea like everyone else, they asked me to move to Korea to teach and supervise the local workers so Gabor would continue to receive the same type and quality of products they were accustomed to getting from Hong Kong. I really did not want to leave Hong Kong at that time, but it was becoming increasingly obvious that my factory was going to be forced to close because all the orders were going to Korea. So, I went back to Eva Gabor with a counter-proposal; I told them that I would work for them in Seoul on the condition that they would apply for me to come into the United States after I had completed the assignment.

NHJ: Why did you choose the United States instead of the United Kingdom, which has closer ties to Hong Kong?

WW: Mainly because of Eva Gabor. Gabor had been my main customer and I knew and respected them. I had also been in the States several times and I liked it there. Being young and adventurous, I decided that the United States is where I wanted to be. The people at the Eva Gabor Company agreed with my request, and I duly established an office in Korea and worked with a factory that produced and shipped about 80 thousand to 100 thousand units per month. Around that time, I came up with a new idea that became a big success. My concept involved mechanically "teasing" the hair before it left the factory - we called it "Perma-Tease" - so that the wigs would be pre-teased for the customer on delivery. Eva Gabor later patented this process in the US.

NHJ: Let's jump ahead to your US years. After overseeing production in Korea, you eventually made your way to the country that had been enticing you for so long. What did you do when you arrived?

WW: I continued to do work for Eva Gabor. They had come out with a men's line called "Phase II" and I was involved in designing and servicing the Phase II pieces. Eva Gabor had an office in San Francisco where I ran the design department. We brought in the machinery and equipment and made the prototypes in San Francisco. This saved a lot of time and money for the company and became an important part of operations for Eva Gabor. After a year, they wanted to combine the San Francisco and Los Angeles offices, and that is how I ended up in Los Angeles. The sales office at that time was in New York. Eleanor, from American Hairlines, was working for Eva Gabor back then also. After two years, Eva Gabor decided to close the men's division because it was not profitable enough for them so I made an offer to buy the Phase II line. I ran it for about a year before Eva Gabor then came back to me and wanted me to pay them more royalties. I did not agree to this and Eleanor ended up taking it over and running it.

NHJ: It's a small world. As you may have read, American Hairlines and Eva Gabor have now merged operations, so the men's line is once again back with Eva Gabor.

WW: Yes. This spring. I met Michael Napolitano at the Long Beach Show. I was impressed with what he had done with the company.

NHJ: Take us the next leg of the journey. When did you start your own company?

WW: That would be 1980. It was a logical next step. I started my factory because my background was in factory management and I knew how to design the product. We started small and decided to develop the business slowly and cautiously.

NHJ: What separates the William Wong Hair Factory from other hair factories?

WW: Firstly, I chose to name my company a "hair factory" because my expertise is in production and I wanted my clients to know they would be working directly with factory experts. When a problem arises, it is usually very basic in its origin, but once it's at the factory it is no longer easy to solve. I can stop those problems from happening because I understand the process.

NHJ: What kind of problems could a retailer have if their distributor does not understand these details?

WW: I do not want to go into other people's strengths and weaknesses. I think that my strong point is that instead of simply pointing out mistakes in the unit, I can actually catch the problem in advance and explain how to fix it before it becomes a major issue.

NHJ: What is the most common mistake that technicians make when they send in an order for production?

WW: There is one problem I see all the time. Although most stylists are very good at cutting and styling hair, they have trouble communicating what they are trying to do on a piece of paper so that we can understand it and manufacture what they want. A lot of the time the information is in their head and they cannot translate it. Therefore, when the piece comes back to them it is not up to their expectations. The solution is to have a simple order form with everything streamlined and simple design guides that are easy to follow.

NHJ: Can you give us an example of a situation where one of your customers benefited from your manufacturing expertise?

WW: An experienced person can look at an order form and immediately see the critical areas that need attention. Sometimes the hair samples are very small and the factory cannot see whether there are ash tones or warmed tones in the sample. Our experience is very important. Every order has its own important areas that need to be pointed out to the factory technician. These preventative measures help the retailers get what they want.


NHJ: Is your order form easier to follow than most?

WW: We have tried to create a simple and logical form. Important technical options are illustrated with pictures.

I believe pictures are easier to understand than words.


NHJ: You are a medium-sized production company. Does this allow you to have a closer relationship with your clients?

WW: Yes, it does. We have about 250 girls working for us in China and we wrote a software program so that we can tract which technician worked on a client's order. Our workers log in at different stages as each order progresses. This information is very important because, when we find something wrong, we can trace it back to the worker. The supervisor can then retrain the worker to fix the mistakes. If you have orders that are sent out randomly to different workers, it would be very difficult to correct the mistake and make improvements.

NHJ: Who is the ideal customer for your company?

WW: Picky customers. People who place a high value on our attention to details. Many of our customers are from small salons because they have no time for corrections or re-makes. They come to us when they see the flyers we send out, or our advertisement in The National Hair Journal. We also get a lot of referrals from existing customers.

NHJ: Do you want to remain a small company?

WW: I like to provide good service to my customers, many of whom have been with me for 15 years. My philosophy is this: if you grow too quickly quality control becomes more difficult. If I don't take care of my existing customers, I will lose the people who made us.

NHJ: In addition to the personal service that you have been talking about, do you also offer any proprietary or distinctive products that can only be found at the William Wong Hair Factory?

WW: We have the good fortune of being in Los Angeles where we have been working with lace pieces - the most natural looking hairpieces - for the movie industry. This same technology is now being offered to our regular customers. We have a few things that are in the experimental stage and they will be announced in the future.

NHJ: Does the needs of the Hollywood studios with their make-up artists and special effects people push you to create new, cutting-edge technologies?

WW: The movie industry is very demanding. A hairpiece must be very natural. When it is on the screen, it is enlarged many times so everything can be seen. If there is something not right with the systems, it is noticeable immediately. Also, while a movie is being made, the hairpiece must last from beginning to end. Multiple hairpieces cannot be used during the filming of the movie; the look has to be the same throughout for reasons of continuity. This means we have to create hairpieces that are undetectable on the big screen and durable in extreme conditions! Before you ask the question yes, I have a number of movie stars as clients, but you will understand that I cannot mention their names.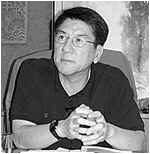 "There is one principal that guides everything I do.
Always treat other people as you would like them to treat you."

NHJ: Can you tell me about the office and the people you have working for you?

WW: We have 12 people working in our organization. About four or five years ago we started to computerize the office to create a new operational system that would expand with us. Today, it is working well and has automated most of our routine functions, freeing us up for more important client contact. We continue to upgrade this system as necessary. We also have a desktop publishing department. We have the ability to design and produce advertising materials in-house as well as our web page, which we produce and manage ourselves. We also make instructional videotapes. Unlike the big companies like On-Rite or New Image, we do not host big shows, so the videotapes are very helpful to my customers, wherever they are located. They can view the latest products in the privacy of their own homes.

NHJ: You have described yourself several times as a small company, yet you are using technologies that many larger companies are not yet started.

WW: The technology that is available to us today is much more affordable than ever before and we should all take advantage of this to improve our communications. The same is true for websites. I think the Internet will be vital to all of us in the future. We all need to get comfortable with it now. I would welcome people to come and look at my website and to e-mail me with questions about my products.

NHJ: Thank you for introducing yourself to The Journal's readers - and hosting us so graciously!